If you are just beginning your yoga practice or can stand on your head while brushing your teeth - we have teachers and classes for you. At Anima Intnerna, we really do meet our students where they are on the mat, that day, that hour, and during that practice.
Our class sizes are never more than 6-8 people, so you get the attention and individual direction you need. Click here to download our complete YOGA SCHEDULE, a description of classes follows. If there is a class or event that you'd like to see happen at Anima Interna, send us a note and we will see what we can do!
"Yoga means addition – addition of energy, strength and beauty to body, mind and soul." – Amit Ray
"A photographer gets people to pose for him. A yoga instructor gets people to pose for themselves." –T. Guillemets
We are also big fans of special events, speaker series and community get-togethers Check out some of our upcoming events:
First Class is on us; Drop In $15; 3 Pack $40; 5 Pack $70; 10 Pack 90
Monthly Unlimited Pass (best value) : $110
Ashtanga 101

- This Ashtanga based class follows a traditional sequence of postures. Classes begin with sun salutations including standing, seated, twisting and balancing postures for a complete practice
Candlelight Restorative

: Refocus mid-week with a relaxing candle lit class designed to combine breath with release. Each posture is held for an extended period, allowing the body to sink in and completely let go of the tension and stress of the day. This class is for all levels.
Gentle Flow Yoga

- This class is designed to have gentle movements in addition to slow holding postures for longer periods of time (2-5) minutes in a place of comfort allowing you to find meditation while stretching.
Yoga Basics

: Great for the beginner, this class breaks down each posture to ensure proper positioning & alignment. Detailed instruction and support for hand, foot, hip and shoulder placement giving you the confidence and building blocks to take your practice to wherever your heart desires.
This class is also wonderful for advanced practitioners who are looking to break bad habits and refresh their practice
Meditation

- In this class you will experience guided meditation to help you find a place of deep peace that occurs during meditation. This class is for EVERYONE
Yin Yoga

: Designed to lengthen connective tissue and open up the joints – this class allows you to sink into each posture and hold for an extended period, warming the tendons and ligaments and allowing for complete release. Perfect for all levels.
***Unlimited monthy & Multi-Pack class packages are non-refundable nor can their value be transferred / applied to other services***
First
Class is on us; Drop In $15; 3 Pack $40; 5 Pack $70; 10 Pack 90
Monthly Unlimited Pass (best value) : $110
January 16th - 6PM
Join our for a special event with Paige Rudolph Wester - Social Media for Small Business : Creating Clients through Connection. Seats are limited, so reserve today. To learn more, visit our Facebook event page.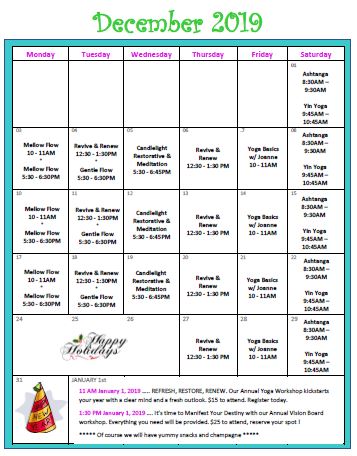 ***Note : Unlimited & Multi-pack yoga passes are non-refundable nor can their value be applied to other services***