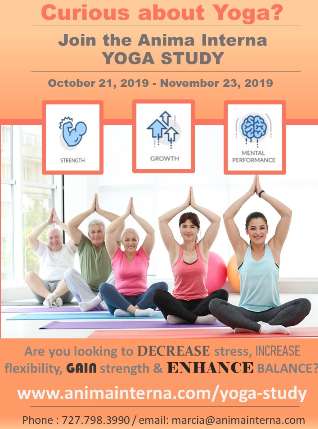 Curious how yoga can benefit your life?
Visit our

OPEN HOUSE

, Thursday October 17th
Beginning at 5PM : meet our teachers, feel our vibe & learn how this ancient practice can
help you find balance; gain strength; improve your sleep; and, so much more.
The Anima Interna Fall 2019 Yoga Study is an incredible dive into the ENTIRE world of yoga - from the breath work, to the movement, to the service. to the community. Yoga is SO MUCH MORE than media shows us. And the positive impact it can have on your mind, body and soul are immense.
So, how does it work?
This Fall, from October 21st through November 23rd, all participants will receive :
*Unlimited yoga classes at Anima Interna
*Workshops that go deeper into yogic philosophy and asana practice
*A special weekly intro to yoga class designed for beginners who are enrolled in the Yoga Immersion Study
*Participants will have a 1:1 interview/assessment prior to the start of the immersion study
*Participants will receive a notebook with tracking tools, pertinent articles about yogic philosophy etc. and workshop handouts.
PLEASE NOTE the Minimum requirements to complete the yoga immersion study are:
*Attendance at one workshop during the yoga immersion study month (participants are welcome to attend all workshops).
*Attendance at a minimum of two yoga classes per week at Anima Interna. (there are classes offered 6 days a week, including days, evenings and Saturday mornings). Click here to see the October 2019 Class & Events Calendar
*The participant who attends the most classes/workshops will receive one free 60 minute service of choice (skin care, massage, craniosacral therapy)!
*Participants that complete the program requirements will receive a 20% off coupon for Anima Interna Service in addition to one month unlimited yoga passs
*Cost to participate in this incredible study and receive all of these benefits is only $150 due upon registration. A tiny sum to feel better, sleep better, worry less, find balance - and so much more!!!!
Want to learn more and meet some great people?! Join us Thursday, October 17th for our Open House and see just how yoga can have an impact on your daily life.
... in the meantime, if you have any questions or want to register, please contact the lovely Marcia by email : marcia@animainterna.com