Alison C. Lynch, LMT, RYT MA78264 Owner & Lead Therapist
Alison discovered alternative therapies while working in the IT sector in Washington DC and trying to manage extreme stress and anxiety. It only took 12 years for the Universe to get her attention and divert her away from tech and into wellness.

Alison began her Reiki Master training in 2010, completed her 200 hour Yoga Teacher Training in 2013 & graduated from Sunstate Academy with honors in 2014. She continues her education in CranioSacral Therapy through the Upledger Foundation and has completed CST1, CST2, SER1 & SER2. She is qualified as a CST Teaching Assistant and begins her education in Visceral Manipulation this fall.
Alison's clients range in age from 4 - 92 and live with conditions such as : paralysis, depression, MS, Lupus, Down Syndrome, Cerebal Palsy, PTSD, ADD/ADHD & TMJ.
Anima Interna was born from a desire to help people reconnect with their inner spirit, create community and share information about the world around us and the world within us. We help people re-discover that self-care is NOT a luxury, it is a NECESSITY!
anima interna ; italian, meaning "inner soul"
In the busy hustle & bustle of life, we find ourselves disconnected from each other as well as from our true self. That was the situation for our founder, Alison C. Lynch. After 20 years in the corporate and technology start-up world, Alison realized she could no longer recall her purpose, her peace nor her true personality. Fortunately, she was introduced to the world of meditation, craniosacral therapy, energy work, massage, self-care & yoga ... and so, began the lifelong journey of self re-discovery.
OUR GOAL : We hope that we can play (at least) a small role to help YOU reconnect with yourself.
With that in mind, Anima Interna helps you reconnect through : touch therapy in the form of massage (therapeutic, swedish, deep tissue, pre-natal, etc), reiki, craniosacral therapy and lymphatic drainage. Our yoga & meditation classes are geared toward slowing down and opening up. And our skin care is a must - healthy, glowing skin helps you recognize just how gorgeous you are #insideandout.
Welcome to Anima Interna and your inner soul.
"heal yourself, find yourself, know yourself, correct yourself, see yourself, love yourself, be yourself, respect yourself" - unknown
Beth Graham Ross, RYT
Beth discovered yoga on a trip to New Jersey in 1998 shortly after graduating from University of Central Florida. Over the years fitness, yoga, nutrition and meditation proved to be a natural companion to effectively managing the changes of life. With a strong intuition to reinvent herself, she stepped out of her corporate framework in the real estate and finance industry after 18 years of dedicated service.
Students appreciate Beth's playful attitude and hands-on demonstrative approach. She creates a safe environment that fosters strength, flexibility, balance, trust and self-confidence. Her belief is that at the root of any yoga practice is breaking down the barriers to your heart center and returning to the breath, which moves us.
Join Beth Tuesdays & Thursdays at 9:30AM for Rise & Renew.
Sara trained at Sunstate Academy and is dual licensed in both massage therapy AND skin care.
Sara loves assisting her clients to look and feel their best. She specializes in deep tissue massage, sports massage and myofacial release. Sara is also certified in Thai Massage ... and you will love it!
Her skin care training allows you to experience a full day of self care, moving from the massage table to the skin care experience. You will leave feeling younger, brigther and refreshed! Schedule your appoitment today!
MA79650
Julie Incremona , RYT
Julie discovered and fell in love with yoga over 19 years ago was immediately drawn to the benefits of both the physical and mental aspect of the practice. She continued with her passion and became a certified teacher in 2016. Julie's main objective is to help people on their journey by teaching a gentle style that will strengthen the mind and body to cultivate a sense of peace, balance and mindfulness that students can carry with them on and off the mat.
Valentina shares her love for yoga in her Tuesday evening Flow class reminding us that it's ok to be accept ourselves where we happen to be. Life is a long journey .. we deserve to give ourselves a little compassion. Yoga class is the perfect place to do that.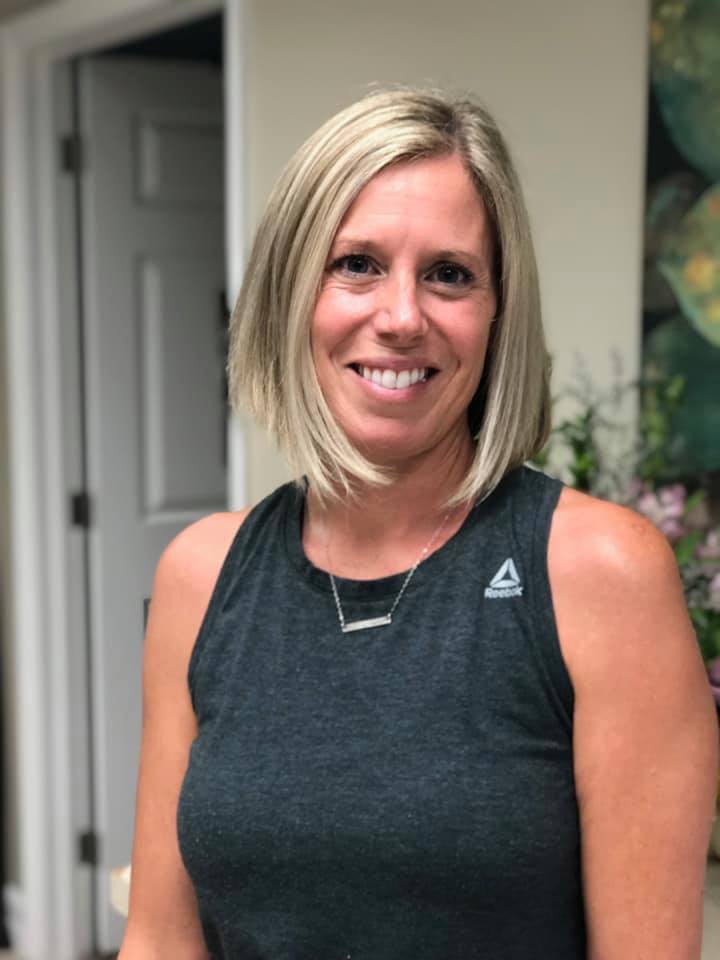 Valentina Leone , RYT
Valentina fell in love with the practice of yoga after just a few classes. She discovered that she was suddenly asking herself bigger and deeper questions ranging from : "how can I be more present in my life?" to "why is is so challenging to experience equinamity during struggles & challenges?" and finally; "when will I feel a deeper sense of vitality in my daily life?"
YOGA became the answer to every one of these questions as yoga is responsible for creating new space, conveying harmony and being available to EVERYONE.
Valentina shares her passion for yoga in her Monday evening Flow class reminding us that "yoga exists in the world because everything is linked" - TKV Deskachar